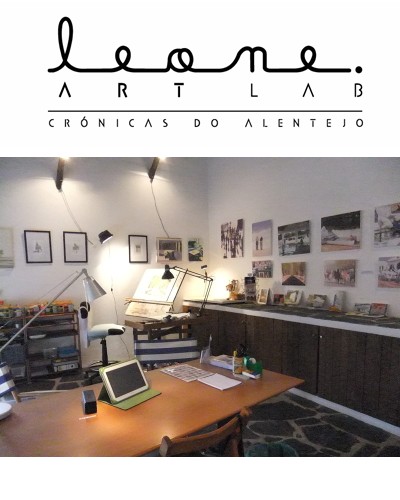 Leone Holzhaus is a Dutch artist born in Bussum in 1948 and living in Portugal since the 90's She has a degree in Design at the Academy Artibus but her creative freedom is revealed in the fine arts and painting . Since 2010 she has been living in " Barretos " , a village at the foothills of the picturesque village of the Marvão fortress . Here time seems to have stopped. Leone has turned an old traditional grocery shop into her home . Recently she opened a workshop and is displaying her pictures inside the castle walls of Marvão, where you can meet and see the artist at work. You can also see and buy her work.
Following the tradition of the great Dutch masters to represent the light inspired. her greatly. She fell in love with this place in the mountainous interior of northern Alentejo near the border of the Spanish Extremadura . The Portuguese intense sun determines the environmental landscape , draws contrasting shadows on whitewashed walls , defining the faces and clothes of the people of the countryside, streets and stone paths .
The Portuguese land and its people are the basis of the work of this artist. Her paintings are full of color and life , sharing stories of real people and showing us a picture of rural Portuguese culture . Her work offers a window into this genuine region of Portugal.